Can you recognise the pictures above? mestilah kan... its gonna be my weekend holiday trip.. bertangguh2 nak pergi holiday.. tapi destinasi dalam Malaysia je lah..
"Cuti- cutiiiiiii Malaaaaayyyysiaaaaaaa :)"
It has been a while since my
holiday trip to Cameron Highlands
dulu... So this weekend the MZMRIZA (cik jijah & hubby laaa) ingat nak gi jalan2 Kota Bharu.. latest that I have been there was around 2003.. itu pun for some work errands.. bukan bercuti pun.. En Amir pulak arround 2004.. pun because of work.. lepas tuh sampai sekarang tak pernah ke sana lagi.. lama dah kan? since dah duduk kat negeri jiran.. melampau lah not to take the chance ke sana.. I think :)
Apalagi kan.. jalan sana jalan sini.. jalan-jalan cari apa? cari makan laaaa.. hehehhee.. sangat berharap dapat makan semua ini ye..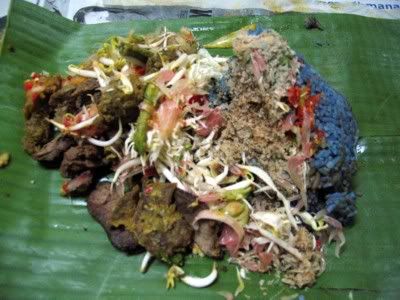 the rich nasi kerabu..
the super creamy yummilicious ayam percik..
the humble soft and sweet akok..
the crunchy crispy som tam..
Now.. anyone can suggest me.. where do I get to eat all these foods in my two days holiday there?.. cant wait.. the food galore... hohohohooooo..
Of course lah.. takkan makan2 aje kan.. nak lah shopping2 sikit.. if KB.. nak beli apa ye? All I have in mind is kain ela.. kain ela.. kain ela.. last beli kain.. masa raya hari tu.. nak beli stock kain for next year's school session.. nggeeeehhhhhh... kat mana best?
Ni pulak bonda terchentaaa kirim.. she asked me to find some crystal fruits.. panggil crystal fruits ke buah2an hiasan gini? Dia tanak plastic.. dia nak yang macam kaca and berkilat tuh.. mana nak cari eh? Cik Jijah rasa dah ketinggalan zaman dah buah tu.. tapi demi bondaku sayanggg.. akan diusahakan juga.. do you have any idea where I can find it?
*all pictures were googled :)