mari.. mari.. mampir pak.. mampir semua.. marilah.. cuci mata.. heheheheh

Heidi Klum.. dengar cerita.. she insurred her beautiful long legs for $2.2mil..
ngggaaaaaa...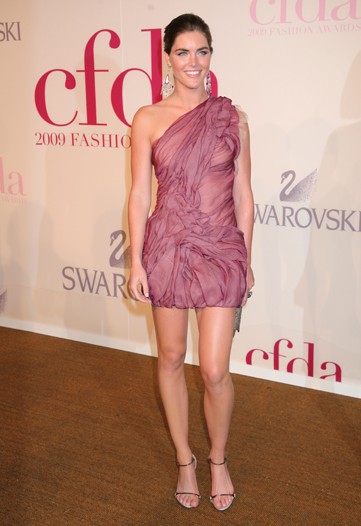 Hilary Rhoda..
the face of Estee Lauder
(jew company)..
cantikkan?
love her look
... ala2 Brooke Shield tapi versi gebu lagikk..
ni Jijah paling suka.. Karolina Kurkova.. muka dia macam pelik tau..
but somehow
..
still so pretty
.. cantik lain macam..
hehhehehe... Jijah dah gila.. hehehhehe..
Cantikkan diorang ni? hehehhehehe.. Apa ke halnya dengan Cik Jijah hari ni.. hehehhehe.. entah.. Empunya blog pun tak paham.. PMS kot.. hehhehehe.. sebulan sekali... biasalahhhhh... hehehheheheh..
ok.. serius.. cantik tak? memang la cantik..
who would deny the beauty of these ladies
.. Jijah pun suka cuci mata.. kalau tengok channel E!.. memang tak beralih punggong dah tengok perempuan-perempuan ni.. hikkkssss...
Jijah yang perempuan ni pun suka tengok perempuan comel.. apatah lagi lelaki.. hehehhehe.. hence.. I once asked the husband.. suami Jijah laa...
Me : Kalau saya kurus.. cantik cam model2 ni abg suka tak?
Husband : Sukaaaaa sangat tapi..
Me : tapi apa?
Husband : abg suka gini lagi.. kalau cantik sangat nanti susah nak jaga..
Me : betul ke bang?
Husband : betul.. nanti hati abg tak senang.. orang asyik tengok kamu.. biarla gini.. takde org perati..
Me : hmm.. memang saya tak laku dah.... ( muncung mulut jijah)
Husband: ke situ pulak.. isssshhhh.. nak kena ni..

Motif? Cik Jijah saja
provoke dia
..
just trying to emphasize that
cantik itu subjektif kan?
it lies in the eyes of the beholder..
muka cantik.. tapi hati busuk.. apa kes? seboleh-bolehnya biarlah lengkap serba serbi.. cantik itu bonus.. :)
Baru-baru ni.. salah seorang murid tuisyen Jijah kena marah dengan mak dia.. sebab tamak makanan.. kalau dengan adik beradik tuh.. dia memang nak lebih.. siap sorok lagi kat rumah nenek dia yang depan rumah.. nak makan senyap2.. heheheh
Mak dia : Mung ni kan.. makang banyok ngatt.. nanti mung gemok sok tadok sape nok ke mung..
dia : Dah Cikgu Liza tuh.. gemuk gokk.. ada je oghang nok ke dia..

keh keh keh.. terdiam mak dia.... budak2 sekarang pandai cakap.. hehehhe.. but
dont worry
Jijah dah dah
corrected
anak murid Jijjah tuh.. bukan sebab gemuk atau rupa diri.. tapi hati dan peribadi.. uikksss... rhymes lah.. dah pulaaakkk.. Cik Jijah ni mulia sangat ke peribadinya? ngeeeee... ukur baju di badan sendiri..
By the way, ini bukan entri mahu bangga diri ye.. cuma bersyukur.. I am so very grateful for having granted by God.. to have such a happy life.. with a husband.. who loves me for the way I am.. accepting me seadanya.. baik dan buruk.. :) cuma Jijah tau.. Jijah kena kurus sikit.. sebab suami kaki jalan.. I need to catch up his fast stride.. kalau tak kena tinggal la alamatnya.. heheheheheeee..